132 News
Lesley Lokko Lecture, Tueday October 4th
4 October 2016 1:00 pm at SAUL Studio
Lesley Lokko, architect, academic and the author of ten best-selling novels - Tuesday, October 4th at 1PM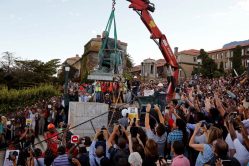 In Conversation: Anne Tallentire and Grainne Hassett
29 September 2016 1:30 pm at Fab Lab Limerick, No. 7 Rutland Street, Limerick
Thursday 29 September, 1.30pm - 2.30pm Fab Lab Limerick (SAUL), No. 7 Rutland Street, Limerick City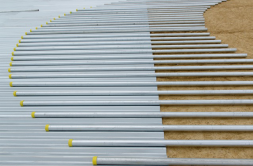 AGL/Fab Lab project featured on ArchDaily
23 September 2016 12:00 am
SAUL, AGL & Fab Lab project featured on ArchDaily article, "The Best Student Design-Build Projects Worldwide 2016"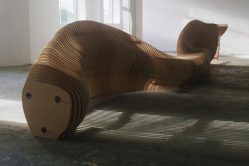 Design@UL 2016
24 May 2016 7:00 pm at University Foundation Building, Foyer Level
Opening Reception and Prize Ceremony by Professor Edmond Magner, Dean, Faculty of Science & Engineering 7pm, Tuesday May 24th in the UL Foundation Building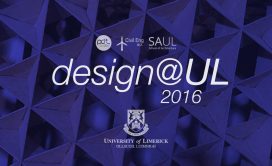 On Altering Architecture by Fred Scott
5 May 2016 5:30 pm at SAUL Studio
On Altering Architecture is an attempted taxonomy of interventional design, a description and to an extent a classification of the issues and approaches relevant to the work, as a specialism within Architecture itself, just as the making of new buildings might also be considered.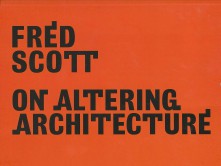 Witherford Watson Mann Architects by William Mann introduced by Jan Frohburg
12 April 2016 5:00 pm at SAUL Studio
Can you save the remnants of a historic castle by building a new house inside it? William Mann will present architectural interventions at Astley Castle, covering its many design challenges. Astley is a remote site with rich historic resonance: a moated castle, lake, church and the ghost of pleasure gardens are grouped around a shallow ridge. With its restoration now complete, you look out from twelfth and twenty-first century construction to fifteenth and seventeenth century walls - the dialogue across the centuries frames contemporary conversations. On a somewhat similar theme but bigger scale William Mann will also talk about the tendency to demolish and build new in the city - and how the frequent regeneration ambition to erase the past is fundamentally flawed.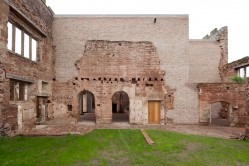 A Sense Of Place. Buildings by Robin Walker by Simon Walker
5 April 2016 5:00 pm at SAUL Studio
Modern architecture in Ireland reached a high point in the early 1960s and one of its most celebrated figures was Robin Walker. Born in Waterford in1924, Robin Walker studied architecture at University College Dublin from 1942 to 1947, and later under the legendary Le Corbusier. He also worked alongside Mies van der Rohe in Chicago. Upon his return to Ireland he became a key agent in the shaping of the emerging modern nation. This talk discusses a selection of his projects, showing drawings, models and photos of the original buildings. It will further consider the rehabilitation of these and other structures, and explain relevant examples.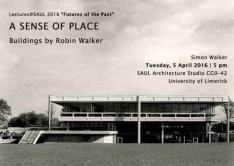 Upwardly Mobile by Niamh NicGhabhann introduced by Anna Ryan
29 March 2016 5:00 pm at SAUL Studio
This talk considers the position of Irish medieval buildings in the early years of twentieth century. Focusing on the treatment of the tiny oratory of St. Lua at Killaloe, Niamh NicGhabhann will examine the ways in which the ruins of the medieval past were used to signify a range of political, religious and cultural ideas and attitudes.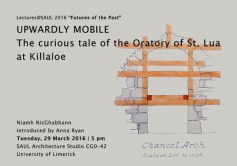 Mimesis and Imagination by Patrick Lynch introduced by Simon Walker
15 March 2016 5:00 pm at SAUL Studio
Patrick Lynch discusses the creative processes of one of London's most critically acclaimed architectural practices in its theoretical and cultural context. The work of Lynch Architects is remarkably diverse for a relatively small practice, ranging from large urban buildings to product design and academic research. This talk situates the practice's recent buildings in London alongside earlier projects within a tradition of decorum and urban depth. Lynch establishes the continuing relevance of the classical concept of mimesis in modern culture, and reveals the communicative role that memory, history and typology play in the contemporary architectural imagination. Mimesis and Imagination also explores the vital role that physical creative work and craft play in design, recovering the critical grounds for a poetics of civic architecture.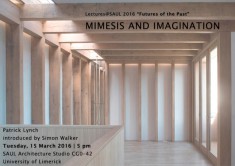 Spatial Poetics. Poetry Reading by Keston Sutherland
10 March 2016 5:00 pm at SAUL Studio
This reading is part of the Spatial Poetics Series at SAUL, curated and run by Lytle Shaw (SAUL and New York University). Investigating the terrain shared between contemporary poetry and architecture, this series of seminars and public poetry readings is sponsored by the School of Architecture and the School of Culture and Communication at the University of Limerick. Keston Sutherland will give the second poetry reading of this series at 5pm on Thursday 10th March 2016 in the SAUL Studio, CG-042, Main Building, University of Limerick