140 News
An Architecture of Social Intensification by David J.Lewis, SAUL Adjunct Professor Inaugural Lecture
29 April 2014 5:00 pm at SAUL Studio
David J. Lewis is founding Principal of LTL Architects, PLLC and Associate Professor at Parsons The New School for Design in the School of Constructed Environments. David J. Lewis holds a Master of Architecture from Princeton University, a Master of Arts in the History of Architecture and Urbanism from Cornell University, and a Bachelor of Arts from Carleton College. At Parsons, he directed the Design Workshop program from 2007 to 2010, was on the faculty for the Solar Decathlon project in 2011 and served as Interim Dean from 2012-13.  He has also taught at Cornell University, University of Pennsylvania, University of Limerick, and Ohio State University. He served as a member of the Advisory Board of the School of Architecture at the University of Limerick, Ireland and is currently a member of the Advisory Council of the College of Architecture, Art and Planning at Cornell University. David was appointed SAUL Adjunct Professor in 2014.
This lecture will present the challenges and opportunities of practicing architecture today.  In a world increasingly defined by virtual social networks and isolating personal technologies (smartphones, iPads, etc.), David will argue for architecture's unique capacity to intensify  the social through the direct organization of space.  New technologies are now inscribed into the material forms of cities, buildings, and dwellings. While these technologies seem to erode the dominance of social relations based on proximity and physical gathering, their pervasiveness has paradoxically placed increasing importance on the interpersonal and the corporeal.  Responding to this paradox in ways formal and contingent, at scales large and small, David will argue for the amplification of social relationships by orchestrating embodied space.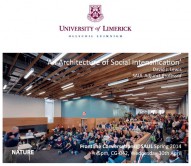 There is a Light that Never Goes Out – The Materiality of Glass by Michelle Howard
22 April 2014 5:00 pm at SAUL Studio
Michelle Howard is an Irish Architect with a practice in Berlin and a Professorship in Vienna. She has spent much of her career collaborating with some of the most important Architectural practices in the world. Notably she spent 6 years from her 20s to early 30s collaborating with the Renzo Piano Building Workshop in both the Genoa and Paris office and then led the project with for the IMAX Cinema complex, part of the Potsdamer Platz urban ensemble in Berlin. In the next 6 years until the end of her 30s she led the construction of two seminal projects for the Office for Metropolitan Architecture, the Dutch embassy in Berlin and the Casa da Musica in Porto. "At last, so sighed the professional world, at last Rem Koolhaas makes with his Office for Metropolitan Architecture, which has had until now through polemic and theoretical furore an undisputed influence on world architecture, really really good architecture."  Dietmar Steiner, Der Standard newspaper, Austria. Michelle continues to work occasionally with OMA in an advisory capacity.
Michelle Howard is a Professor of Architecture and head of the Platform for Construction, Materials and Technology at the Academy of Fine Arts Vienna. She currently working on a publication which documents the platform and its working methods, called Research, Observe, Make and is due to appear in the coming months.
In her office in Berlin, called constructconcept, she maintains a small structure where she can both contribute to other projects and gain support when her own activities demand it and believes that good architecture is the result of great teamwork. constructconcept is committed to the fusion of design, construction and environment in architecture, without compromise. The interdependency of these elements is constantly reasserted, while existing qualities are rediscovered and enhanced. Rather than searching blindly for solutions we stand back and search for the real questions, finding inspiration in what is already there.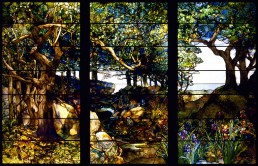 Small Town Studio by Small Town Studio
9 April 2014 1:15 pm at SAUL Studio
Small Town Studio is an 8-week design/build project, involving architects, designers, and students who are invited to collaborate with a rural community in County Limerick, and develop a short built project in Summer 2014. This remarkable collaboration will inspire future engagement and participation with heritage and culture in Limerick. Small Town Studio is partially funded by Limerick City of Culture 2014.
Small Town Studio is an ongoing project – we are going to talk about how it came about. How other work we have done and ideas and precedents have contributed to the type of project this is. We will talk about what we have done so far – The project has been developing in a really promising way, we got a huge response to our calls for interest back in December. We have been meeting and discussing with each of the communities already, and we will be going through some of the project ideas that came out of that. We'll talk about what we have lined up for this year, how it's going to work, and we will talk about how you can get in touch/participate.
Eleanor Moloney graduated from SAUL in 2011. Participated in SAULFab in 2009; Teaching Assistant, SAUL 2010 "Vandalised Monuments IV" EV+A 2012; "Under Your Feet" 2012; Manasc Isaac Architects (Project Architect) Canada 2013; Partner, Small Town Studio.
Ger Walsh graduated from SAUL in 2012. Participated in Koshirakura Landscape Design Workshop, Japan 2013 (http://www.koshirakura.org/); Participated in urban design workshop, for Ch?? City Council, Tokyo 2013; Collaborator/Model-maker, Limerick FabLab; Partner, Small Town Studio.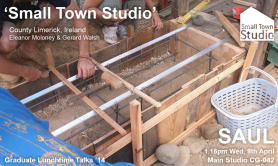 Fab Lab Limerick Launch
3 April 2014 4:30 pm at Fab Lab
Fab Lab Limerick opens its doors next week and invites you to come to the inaugural launch and discover how to use 3D printing and other digital fabrication technologies in your creative projects.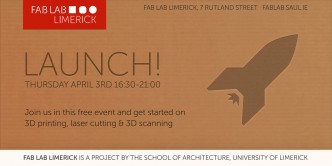 Landscape and Revolution in Ireland, France and America 1770-1810 by Dr. Finola O'Kane Crimmins
1 April 2014 5:00 pm at SAUL Studio
This lecture will identify the origins, trajectories and tangles of the many revolutionary landscapes that have criss-crossed the Atlantic since the late eighteenth century.  Moving from west to east, and from Philadelphia and Virginia to Dublin and Geneva, such reversed vistas will also question the implicit trajectory of much historical narrative. It will also explore how landscape tours became a precondition for revolutionary thought.
Finola O'Kane Crimmins lectures in the School of Architecture UCD where she directs the MUBC programme. An architect, landscape historian and conservation specialist, her first book Landscape Design in Eighteenth-century Ireland: Mixing Foreign Trees with the Natives was published in 2004 and awarded the inaugural J.B. Jackson Book Prize by the American Landscape Foundation in 2007. Her most recent book  Ireland and the Picturesque: Design, Landscape Painting and Tourism in Ireland 1700–1840 was published in 2013 by Yale University Press on behalf of the Paul Mellon Centre for Studies in British Art. In 2013 she was appointed a fellow of Dumbarton Oaks by the Trustees of Harvard University, embarking on a research project entitled 'Revolutionary Landscapes: Ireland, France and America 1700–1810'.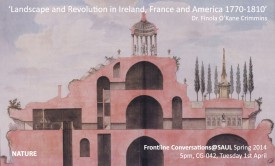 Between you and I: a lens, a screen, a mountain by Rebecca Birch, Artist
25 March 2014 5:00 pm at SAUL Studio
This talk will take a looping journey from the White Mountains of California via the Arctic Circle, the M11, the Lincolnshire Coast and the  suburbs of Dublin to the desktop of a computer in Wakefield, Quebec.
Rebecca Birch is an artist making films and spending time with people and landscapes. She is currently writing a PhD about a lichen-covered stick that has been in her care since 2011.  Alongside her practice she is co-director, with the artist Rob Smith, of Field Broadcast, an online live broadcast platform connecting artists in remote locations with viewers across the world.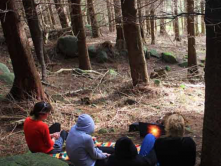 Nutritious City: The Biospheric Project by Greg Keeffe
20 March 2014 12:00 pm at SAUL Studio
The Biospheric Project is a collaboration between Professor Greg Keeffe of Queens University School of Architecture, and Vincent Walsh CEO of the Biospheric Foundation, Salford, funded as part of the Manchester International Festival 2013.
The Project aims to challenge contemporary notions of food production and supply, by providing a positive alternative, based on technological application, ecological thinking and community involvement. It consists of a series of urban interventions regarding food production supply and delivery, which aims not only to feed people in a more healthy and sustainable way, but also close resources cycles and improve urban resilience.
The Project consists of a technological food system, a forest garden and wholefood shop in the Blackfriars neighbourhood of Central Salford. Blackfriars is typical of many inner-city neighbourhoods in the UK, being economically, socially and environmentally deprived. Although it is less than a kilometer from the centre of Manchester, there is no place to purchase fresh food.. Inserted into Irwell House, a previously derelict mill near the river, the project aims to produce hyper-localised food in a way that is sustainable by closing resource cycles. The innovative technological food system, consists of a bio-diverse aquaponic farm, which produces leaf crops and fish. The system is simple, fish are reared in tanks in the second floor of studio of the Biospheric Foundation, and plants are grown in a polytunnel on the roof of the building. The system works in a cyclical way – waste food from the neighbourhood feeds the fish, and the waste from the fish feeds the plants, which in turn purify the water for the fish. Filtration in the system is provided by a worm based mineralization system.
Greg Keeffe is an academic and urban designer with 25 years experience in sustainability, energy use and its impact on the design of built form and urban space. He is Professor of Sustainable Architecture and Director of Research at Queens University School of Architecture, Belfast, UK.
Over the past 25 years he has sought to develop a series of theoretical hypotheses about our future existence on the planet, through a series of technological and spatial interventions. Most of his work comes out of a free-thinking open-ended discussion about how things should be.
Greg has extensive experience of working closely with architects and planners to develop exciting ways of re-invigorating the city through the application of innovative sustainable technologies, informing his work on the sustainable city as synergistic super-organism. In 2013 he developed The Biospheric Project, for Manchester International Festival (2013) in conjunction with Vincent Walsh of the Biospheric Foundation.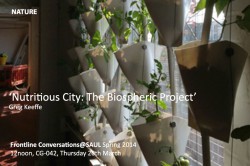 Representation & Plantation by Miriam Delaney
26 February 2014 5:00 pm at SAUL Studio
The Plantations of the early 17th century resulted in radical changes to the landscape of Ulster. The Londonderry plantations were mapped by the cartographer Thomas Raven in 1620 and document the fourteen villages and two towns constructed and settled by twelve London Guilds, and their hinterlands. A close reading of the maps reveals much about the urban morphology of these plantations settlements, the social and demographic structure of the villages (native, settlers and freeholders) and the architecture and typologies evident. They also unintentionally expose the colonial mind-set that accompanied the plantations of Ulster.
Miriam Delaney is an architect and lecturer, who has taught in UCD, QUB and is currently first year architecture year head in DIT.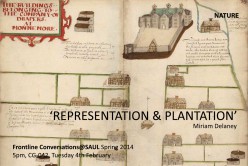 Hobbema's Swamps by Lytle Shaw
25 February 2014 5:00 pm at SAUL Studio
Preceded by 16h30 book launch by Prof. Merritt Bucholz of 'Fieldworks: From Place to Site in Postwar Poetics' by Lytle Shaw.
The Dutch Golden Age painter Meindert Hobbema lavished attention on oak trees, rutted paths, checkerboard cottages and swamps, while radically downplaying the human figures that typically "animate" landscape painting.  Recuperating this reversal of perspective as a major event in the history of painting, this talk develops a cultural and philosophical basis for Hobbema's enterprise. Following talks on Jan van Goyen (2012), and Jacob van Ruisdael (2013), this lecture is the last chapter of a book in progress, New Grounds for Dutch Landscape, which reframes Dutch landscape painting not merely as a representational project, but as a matter of re-staging, within the medium of painting, the physical processes of Dutch land reclamation.
Lytle Shaw is Associate Professor of English and Director of Graduate Admissions for English at The Department of English at New York University. He was awarded his Ph.D. 2000 (English) from The University of California, Berkeley and his Bachelor of Arts 1991 (English) from Cornell University. He currently teaches two elective modules at SAUL, Radical Description and Experimental Research. His work centers on twentieth- and twenty-first century poetry and art. He is interested in how texts and art objects mediate, transform, and disrupt (rather than simply "reflect") the cultural and social possibilities of their moments. His teaching and writing continue to focus on how recent poetry and art might not just relate to but in a sense become experimental versions of historicism, ethnography, documentary and landscape aesthetics.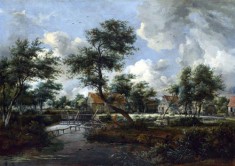 Code For All Ireland by Dominic Byrne
25 February 2014 1:00 pm at SAUL Studio
Digital technology is changing the way we live our lives in areas such as banking, entertainment, education and tourism.  This technology also has the capacity to transform civic society – including democratic participation, citizen journalism and supporting local communities. National and Local Governments around the world are opening up the data that they hold for reuse by others.  The reuse of Open Government Data facilitates transparency, participation, collaboration and economic development.
The aim of Code for Ireland is to bring together people from local communities, software developers and people working in government in order to develop apps and services that solve community problems and also to enable open government. The first Code for Ireland chapter has been established in Dublin and in the coming years additional chapters will be established in other Irish cities and towns.
Dominic Byrne is Head of Information Technology with Fingal County Council and has 21 years experience working in IT.  He holds a B.Sc. in Information Technology and M.Sc. in Information Systems.He is responsible for Fingal Open Data which was the first Open Government Data website in Ireland.  He is also a member of the Dublinked management team and is chair of the National Cross Industry Working Group on Open Data.  In addition, he is a member of the Digital Dublin Forum which worked on the recently launched Digital Masterplan for Dublin.
He is responsible for managing the provision of IT services in Fingal and his current interests include Open Data, Open Government, Social Media, and Knowledge Management. Dominic was designated a Dublin Digital Champion at the 2013 Lord Mayor Awards for his work on Open Data.