134 News
The City within the City by Peter Carroll Architect in conversation with Kazys Varnelis, Architecture Historian & Theorist
8 October 2013 5:00 pm at SAUL Y5 Crit Space, Room C0-067, UL
In the context of Limerick's future, is it possible to consider precise yet speculative construction as opposed to architectural form as a point of entry towards the project of the city?
Is it possible that the construction that results is not only a physical object but is what survives the idea of the city?
Focusing on the precise yet speculative nature of Georgian construction, a number of enquiries will be raised:
the continuity of the macro construction of the city founds (vaulted ground floor, raised streets, culverted sewers, shared construction technologies) in the context of a speculative, piecemeal procurement of city
the capacity of this construction to deal with siting, local environmental conditions, availability of materials
the resilience of this Georgian 'city within the city' to this day and what it offers in thinking strategically about Limerick's future city
what lies beneath, what is hidden from view.
Peter Carroll is SAUL Course Director, Director in A2 Architects, Treasurer of DoCoMoMo Ireland and Elected Member of RIAI Council.
Kazys Varnelis is a historian and theorist of architecture, specialising in network culture. He is Director of the Network Architecture Lab at Columbia University's GraduateSchool of Architecture.  Kazys is a member of the founding advisory board at SAUL where he currently teaches history and theory of architecture.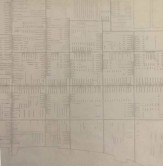 'Radical & Conservative at Once' by Kathleen James-Chakraborty and Jan Frohburg
24 September 2013 5:00 pm at SAUL Studio
"Radical and conservative at once" – On the work of architect Mies van der Rohe in the context of wartime America.
Kathleen James-Chakraborty is Professor of Art History at UCD. A graduate of YaleUniversity, James-Chakraborty earned her doctorate from the University of Pennsylvania.  She has taught at the University of Minnesota, at the University of California Berkeley, where she was Professor of Architecture, and at the Ruhr University Bochum. James-Chakraborty is a historian of early modern and modern architecture.  She is an expert on twentieth-century German and American modernism.
Jan Frohburg studied in Weimar, London, Zurich and Chicago and has practiced and taught architecture in Germany, the U.S. and Ireland. His research interests include design education and the spatial expression of Modernity, focusing on spatial concepts characteristic to the works of Mies van der Rohe.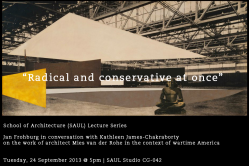 Design@UL
28 May 2013 5:00 pm at Former Franciscan Church, Henry Street Limerick
'Design@UL' is an exhibition that brings together a diversity of design work from five undergraduate courses at the University of Limerick.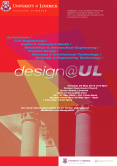 SAUL Student Success in Concrete Design Competition
23 April 2013 12:00 pm
Five students who have recently completed their fourth year in the School of Architecture have had success at the recently held Concrete Design Competition, including a team who shared overall first place.
The winning entry was submitted by Ray McGreal and Coilin Dorgeain, Jenny Kingston was third overall, with Bozidar Milosevic and David Williams being awarded 2 of the 3 special mentions awarded this year. This is the fifth cycle of the biennial Concrete DesignCompetition which is an international event with five participating nations, organised in Ireland by the Irish Concrete Society. The theme of this years competition was energy and concrete, and as part of their prize, Ray, Coilin and Jenny will represent Ireland at an international symposium on energy and concrete which will be held this year at the end of August in the Netherlands.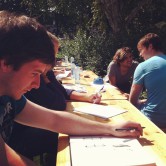 Parsons Collaboration
23 April 2013 12:00 am
SAUL + PARSONS School of Constructed Environments are working collaboratively to develop new ideas for the future of Limerick. Virtual design sessions are being run each week between Parsons' studio in New York City and the SAUL studio in Limerick. At these sessions new ideas, new possibilities, and new futures of a renewed city are explored.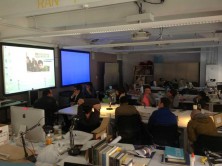 Diane Morgan by Diane Morgan
16 April 2013 5:00 pm at SAUL Studio
Diane Morgan. The Sound of Architecture: Tuning into the Material Resonances of Buildings. School of Fine Art, History of Art & Cultural Studies, University of Leeds. Final Session in the "The Philosophy of the Detail" Spring Lecture Series. Organised by The School of Architecture University of Limerick.
We cannot live in this barbarity; we must get out of it at all cost, whilst conserving our scientific gravity and our industrial positivism. There are other means to be employed, other forms to create, other combinations (agencements) to be imagined. Through culture, the earth must become one immense garden and work, through its organisation, one vast concert". Pierre-Joseph Proudhon The Principle of Art and Its Social Function (1865).
Our built environment is often the impoverished product of brutiers or "sad calculators" (Saint-Simon) who, succumbing to economic pressures and statutory restrictions, conceive the world as composed of isolated bodies (corps bruts) to be juxta- or super-posed. A reconsideration of architecture's nature is needed. A recharged sense of its potential might be gleaned by exploring its synaesthetic attunement with the fluid art of music. Using the C19th French socialist utopians', Saint-Simon and Proudhon's, critique of conventional building practices as a theoretical framework, my paper wishes to engage debate about contemporary architectural projects which make use of the sonic effects of materials, in particular in conjunction with water; such projects could be seen to rise to Proudhon's challenge to transform the world into "one vast concert". By implication, my paper will emphasize the importance of aesthetically appreciating architecture, not so much via the visual image, as through sonic and auditory waves. It would also be exploring how this reattunement of the medium of architecture to these other senses could be seen to produce ethical effects, which, for the utopian socialists at least, contribute to producing a better society.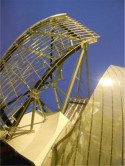 Patkau Architects by Patkau Architects
10 April 2013 1:00 pm at SAUL Studio
Patkau Architects will give  talk in the main SAUL studio at 1pm on Wednesday 10th of April. All Welcome.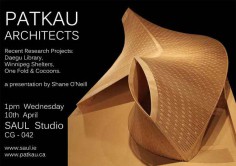 Andrew Griffin- Architect in conversation with Maxim Laroussi by Andrew Griffin and Maxim Laroussi
8 April 2013 5:00 pm at SAUL Studio
In 1960 after 4 thousand years of civilisation, the world's population reached 3 billion people, only 52 years later in 2012 we have more than doubled this and reached 7 billion people worldwide. Currently Asia amounts to about 60% of the world's total population. It has some of the world's densest and most impoverished cities. Africa and North Africa are also rapidly expanding in extremely different ways. Huge economic gaps divide rich and poor and many areas that are expanding faster than current planning modules or political landscapes can compete with. We have a humanitarian crisis. An urban crisis.
We would like to initiate an Urban debate on cities and what the future of the city is and even if our current idea of the city is redundant. To do this we will be discussing Cities in their most simple element: the street. From Morocco to Shenzhen and New York to Limerick.
Andrew Griffin is a Director of JDS Architects leading the Copenhagen Headquarters on a day to day basis. Andrew is responsible for JDS Architects' International projects and its expansion into the Asian market including its Shanghai office. Andrew specializes in Master-plans, Hotels, Sports, Residential, Office, Mixed Use and Public Buildings. Andrew is currently leading JDS Architects projects in China with and a number of project throughout Europe and southeast Asia.
Born in Ireland, Andrew graduated at the top of his class from the Dublin School of Architecture, DIT with 1st class honours. He also received the Opus award for Best Graduate in Ireland and Best In Show in London. He was President of the Architectural Students Association from 2003-2004 and has been consistently active in many Architecture associations across the world both in an advisory capacity and as member. Before joining JDS Architects as Partner in 2006 he worked for the Office for Metropolitan Architecture/ Rem Koolhaas (OMA) in Rotterdam on the CCTV project in Beijing and was part of the winning team for the White City Master plan in West London. Andrew has also worked at FKL Architects in Dublin and PLOT in Copenhagen.
Maxim Laroussi: Born in Fez, Morocco and moved to France at an early age. He graduated from PUC Campinas, Brazil and UCD, Dublin with a B.Arch. He lived and worked as an architect in various countries including UK, France, Brazil and Ireland before setting up Architecture Republic in Dublin 2005. He was president of the Architectural Association of Ireland from 2005-06 and currently teaches at the School of Architecture University Limerick.
Architecture Republic with offices in Dublin (Ireland) and Lyon (France) operates in the fields of architecture, urbanism and landscape design. In the past few years, Architecture Republic received numerous awards for excellence in architectural design including numerous AAI Awards, Irish Concrete Society Award and received a nomination for the prestigious Mies Van Der Rohe Awards in 2011 as well as being awarded as one of top 40 European architects under 40 by the European Centre for Architecture Art Design and Urban Studies.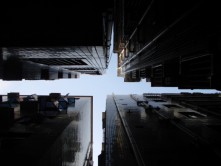 Portfolio Submission Deadline
5 April 2013 4:00 pm
The closing date for Portfolio Submissions is Friday 5th of April 2013 at 4pm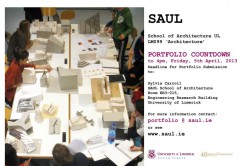 Portfolio Preparation Workshop
20 March 2013 6:00 pm at SAUL Studio
The portfolio preparation workshop for 2nd level & mature applicants to 'LM099′ Architecture will take place on Wednesday the 20th of March 2013 from 6:00pm to 7:30pm. For more information please email Sylvia Carroll. A live stream of the presentation can be found here starting at 6pm
Previous Portfolio Preparation Workshop Video.