Lectures: 79 Conferences and talks
Questions the World is Asking of Architecture: René Boer
4 December 2018 5:00 pm at SAUL Studio
Photo: Johannes Schwartz 2018 Self-built family home on Amsterdam's squatted ADM terrain.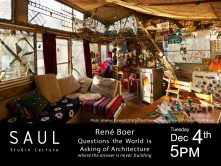 In Conversation, Grainne Hassett & Sarah Glennie
5 April 2017 6:30 pm at IMMA, The Irish Museum of Modern Art, The Royal Hospital, Kilmainham
Grainne Hassett, founding architect of The Calais Builds Project and Sarah Glennie, Director, IMMA - reflect on some of the most pertinent issues arising out of the The Calais Builds Project that continue to drive Hassett's work as an architect and educator as well as her ideas on the ethical responsibilities of architects and society at large, to contribute to the global refugee crisis.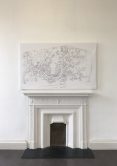 Japanese Traditional Houses: Climate Space Society by Prof. Masao Noguchi, Tokyo University of the Arts
21 March 2017 5:00 pm at SAUL Studio
Japanese Traditional Houses are closely connected with a severe local climate, timber construction and social status. They reflect the spatial hierarchy and the real life of 18th and 19th century Japan. Specific house types including those of rich merchant, farmers and shipbuilders will illustrate the high sophistication of their architecture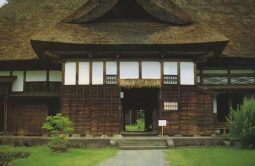 Open Source Prosthetics by Jen Owen of E-nable
22 November 2016 6:00 pm at Fab Lab Limerick (No. 7 Rutland Street)
e-NABLE is a global open source prosthetics community. Co-founder Jen Owen is coming from Seattle to share e-NABLE story with us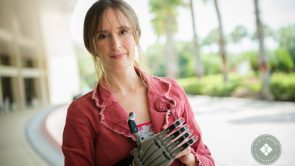 Fred Scott, On Altering Architecture
17 November 2016 6:30 pm at SAUL Studio (CG-042)
'The only question is, how much can I change the building?' - Julian Powell Tuck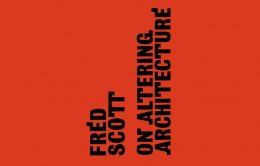 Building Structures – Calais Refugee Camp by Grainne Hassett
2 November 2016 5:00 pm at Jean Monet Lecture Theatre, University of Limerick
Senior lecturer at SAUL Grainne Hassett to present her work Building and Breaking Structures at the Calais Refugee camp.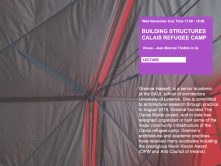 Lectures@SAUL 2016 by Tanja Poppelreuter
1 November 2016 5:00 pm at SAUL Studio
Tanja Poppelreuter is Lecturer in the History and Theory of Architecture in the Belfast School of Architecture at Ulster University and previously at Auckland University, New Zealand. She holds a PhD in Art History and has extensively researched the prevalent ideologies of the early twentieth century that sought to reform mankind through architecture.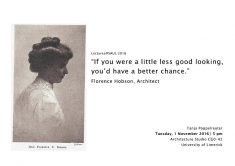 Myth of Progress by Elizabeth Hatz
18 October 2016 1:00 pm at SAUL Studio
Reflections on Georg Henrik von Wright's thinking and its possible implications for architecture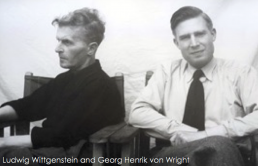 Lesley Lokko Lecture, Tueday October 4th
4 October 2016 1:00 pm at SAUL Studio
Lesley Lokko, architect, academic and the author of ten best-selling novels - Tuesday, October 4th at 1PM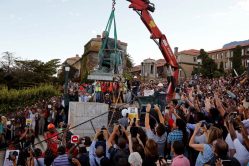 On Altering Architecture by Fred Scott
5 May 2016 5:30 pm at SAUL Studio
On Altering Architecture is an attempted taxonomy of interventional design, a description and to an extent a classification of the issues and approaches relevant to the work, as a specialism within Architecture itself, just as the making of new buildings might also be considered.