Events: 37 Exhibitions and Workshops
Fab Lab Limerick Launch
3 April 2014 4:30 pm at Fab Lab
Fab Lab Limerick opens its doors next week and invites you to come to the inaugural launch and discover how to use 3D printing and other digital fabrication technologies in your creative projects.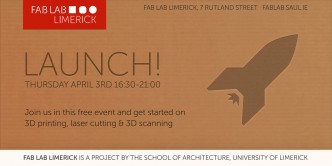 Design@UL
28 May 2013 5:00 pm at Former Franciscan Church, Henry Street Limerick
'Design@UL' is an exhibition that brings together a diversity of design work from five undergraduate courses at the University of Limerick.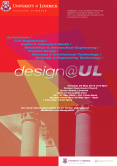 Portfolio Preparation Workshop
20 March 2013 6:00 pm at SAUL Studio
The portfolio preparation workshop for 2nd level & mature applicants to 'LM099′ Architecture will take place on Wednesday the 20th of March 2013 from 6:00pm to 7:30pm. For more information please email Sylvia Carroll. A live stream of the presentation can be found here starting at 6pm
Previous Portfolio Preparation Workshop Video.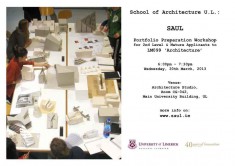 Open Street Mapathon
27 February 2013 5:00 pm at SAUL Studio
Join us on Wednesday 27th February from 17:00-22:00 in the SAUL main studio as we map Limerick city! We will teach you how to edit and upload to OpenStreetMap website.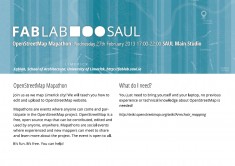 Ur Limerick
1 February 2013 5:00 pm at Hunt Museum
8 students.16 Hands.1 Voice.Revitalising Limerick City's Georgian Core with radical urban strategies. We need YOUR voice, YOUR help, the people of Limerick!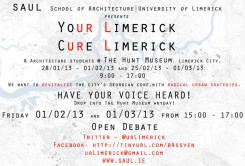 Open House Limerick
19 October 2012 10:00 am at Limerick City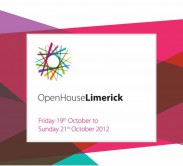 The Future of Limerick
25 September 2012 5:00 pm at SAUL Studio
Prof of Architecture Merritt Bucholz will conduct a public interview of two architecture critics, Kazys Varnelis from New York and Irénée Scalbert from London, about the future of Limerick