Events: 35 Exhibitions and Workshops
Portfolio Preparation Workshop
20 March 2013 6:00 pm at SAUL Studio
The portfolio preparation workshop for 2nd level & mature applicants to 'LM099′ Architecture will take place on Wednesday the 20th of March 2013 from 6:00pm to 7:30pm. For more information please email Sylvia Carroll. A live stream of the presentation can be found here starting at 6pm
Previous Portfolio Preparation Workshop Video.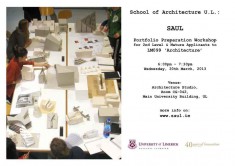 Open Street Mapathon
27 February 2013 5:00 pm at SAUL Studio
Join us on Wednesday 27th February from 17:00-22:00 in the SAUL main studio as we map Limerick city! We will teach you how to edit and upload to OpenStreetMap website.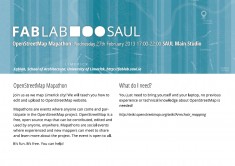 Ur Limerick
1 February 2013 5:00 pm at Hunt Museum
8 students.16 Hands.1 Voice.Revitalising Limerick City's Georgian Core with radical urban strategies. We need YOUR voice, YOUR help, the people of Limerick!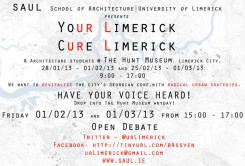 Open House Limerick
19 October 2012 10:00 am at Limerick City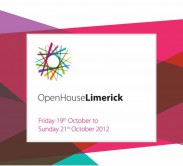 The Future of Limerick
25 September 2012 5:00 pm at SAUL Studio
Prof of Architecture Merritt Bucholz will conduct a public interview of two architecture critics, Kazys Varnelis from New York and Irénée Scalbert from London, about the future of Limerick